Did you know that Urban Barn has 53 stores across Canada? Every day we're so happy to open up our doors and welcome in the friendly people in the neighbourhoods that we live in.
We hold ourselves to a pretty high standard, and live by a set of values that keep us in-line with what we, and our valued customers have come to expect of us. The funny thing is, these are values that aren't just what your local Urban Barn stands for, but what makes Canada so amazing.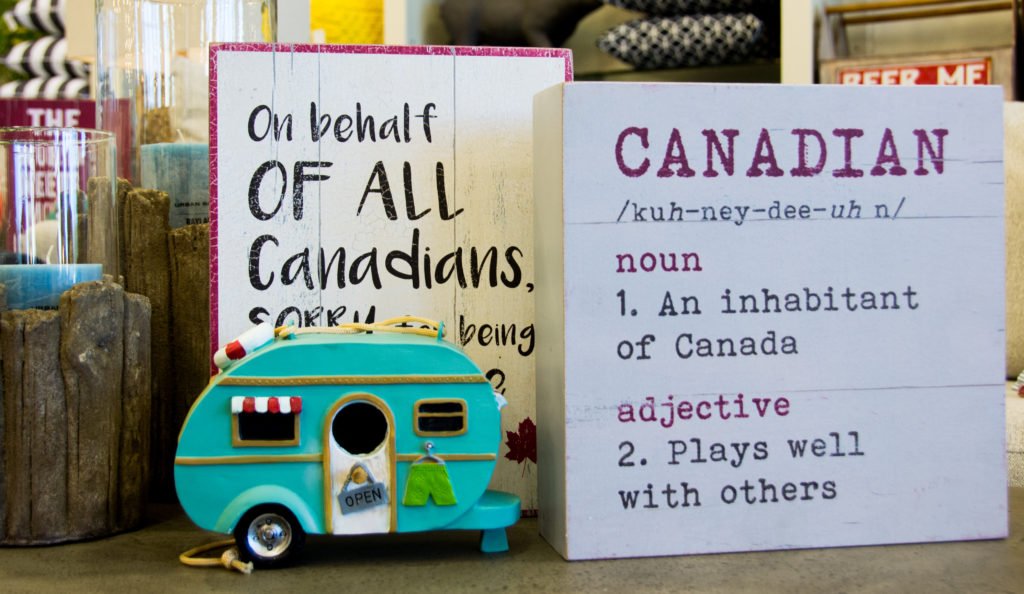 On July 1st, we will be celebrating our beautiful country. Canada is a land full of stories, adventures, talent, style, and enthusiasm. We welcome outsiders and encourage them to share in the things we love. We unite across our love for the outdoors, for sport, for common ideals, and create authentic relationships with the aim of making our daily lives just a little bit better every day.
We asked some of our Urban Barn family from across Canada – Why are you celebrating Canada Day?
"I celebrate Canada because my parents moved us from South Africa in order for my sister and I to have a better life. We are now able to travel to the Czech Republic to visit our family whom we never would have been able to meet if we were still living in South Africa. Knowing the sacrifices my parents made for me makes me truly appreciate this beautiful country that I call home." – Kathy, Planner
"I love how Canadians are so in-touch with nature and their incredible environment."  James, our Digital Marketing Specialist
"I remember when I was younger, I craved the glitz and glamour of cities like Los Angeles and New York City. Having traveled around the world, I realized that Canada will always be the place I call home. I love waking up and and seeing the sprawling mountain ranges right outside my window. I love that nature is just a short car ride away. I'm proud to live in this beautiful country!" – Marie, Marketing Administrator
"I travel a lot and my most proud possession is my Canadian passport. I always get such a warm welcome, wherever I go." Sébastien, General Merchandise Manager
"5 Years ago, we said goodbye to all our friends and family in South Africa and moved to Vancouver with our two small children. Starting over in the middle of your life is not an easy challenge but we had a suitcase full of hopes and dreams. Every Canada day is a time for us to reflect. To celebrate our successes, to remember the strangers that helped us and a reminder that we too must pay it forward.
We came. We saw. We fell in love with Canada. This is our home now." Sasha, E-Commerce Manager
"Canada allows me to be my Canadian self because you are proud but not arrogant, you lead without aggression, your work makes a difference, you empower diversity and drive innovation." Ian, Planner.
This time last year I was working for Walt Disney World Resort in Orlando, FL as a Cultural Representative. Every day I got to share my Canadian traditions and culture with the many guests who came to visit the park. I shared fun facts about my hometown, played trivia with guests and sang 'Oh Canada' way too many times to count. Living in a different country and constantly talking about my homeland was difficult but it also gave me so much pride. Seeing how excited and interested in Canada some of the guests were always made my day. Part of the experience of being a Cultural Representative also meant living and working with representatives from other countries as well. I was able to meet so many amazing people from all over the world and share in their culture as well. Last Canada Day I spent with a bunch of fellow Canadians, Norwegians and Germans in EPCOT, the park in which all of our home countries were represented. The group of us bonded over how we celebrated Canada Day back home and brought some of those traditions with us to share with our foreign friends. We all wore red and white, ate poutine and enjoyed some fine Canadian music (Mostly Shania Twain though!). It was the most unique Canada Day I've ever experienced and I know my German and Norwegian friends will be celebrating this year back in their home countries. This experience opened my eyes to the world and makes me proud to celebrate Canada everyday!" – Rachel, London Store
Our values:
BE RESPECTFUL – of our world, communities, customers and colleagues
BE RELEVANT – keep informed, learn and be ready to change
BE FUN – see the lighter side, be energetic and vibrant
BE STYLISH – in our design choices, appearance and demeanour
BE UNIQUE – celebrate differences, think creatively, be open and never boring
BE PROFESSIONAL – through accuracy, knowledge and communication
BE TRUE – remain authentic and honest
BE EXCELLENT – continuously raise the bar
Featured Products: Canada Sorry Block, Canada Plays Well Block, Hoyt Candle Holder, More Canada Block,