Each month, we go through Instagram looking through all of your beautiful photos with the #MyUrbanBarn tag, looking for someone to feature on our blog (and to send a $150 UB gift card). This month's winner is Victor aka @vdiep on Instagram.
Could you tell us a little about yourself and your space?
My name is Victor and I'm am a Chartered Professional Accountant by day and interior decorating hobbyist by night! I got into interior decorating several years back when I was moving into my downtown condo in Calgary and thought to myself I really want a place that is styled by me. I didn't want to move into my own place with the furniture I grew up with at my parent's house. Not that there's anything wrong with that J. I had a vision of what I wanted my space to look like and I was determined to make it happen.
My condo has an open concept plan where you can pretty much see the entire space without any wall obstruction. The floor to ceiling windows wrap my suite like a glass curtain wall that provides ample sunlight. The interiors are quite sleek and modern.
How would you describe your decorating style?
I would describe my decorating style as a blend of modern, mid-century and contemporary.
My space is mostly simple, clean and monochromatic with burst of greenery and warm tones to draw the eye around.
Tell us about your favorite Urban Barn piece and why you love it.
My favorite piece in my home is the Chateau extension table in the silvermoon finish. This dining table is absolutely great as it's got a lot of room. It serves well for dinner parties and board games nights. It's French farmhouse aesthetics is definitely the focal point for the kitchen/dining room area.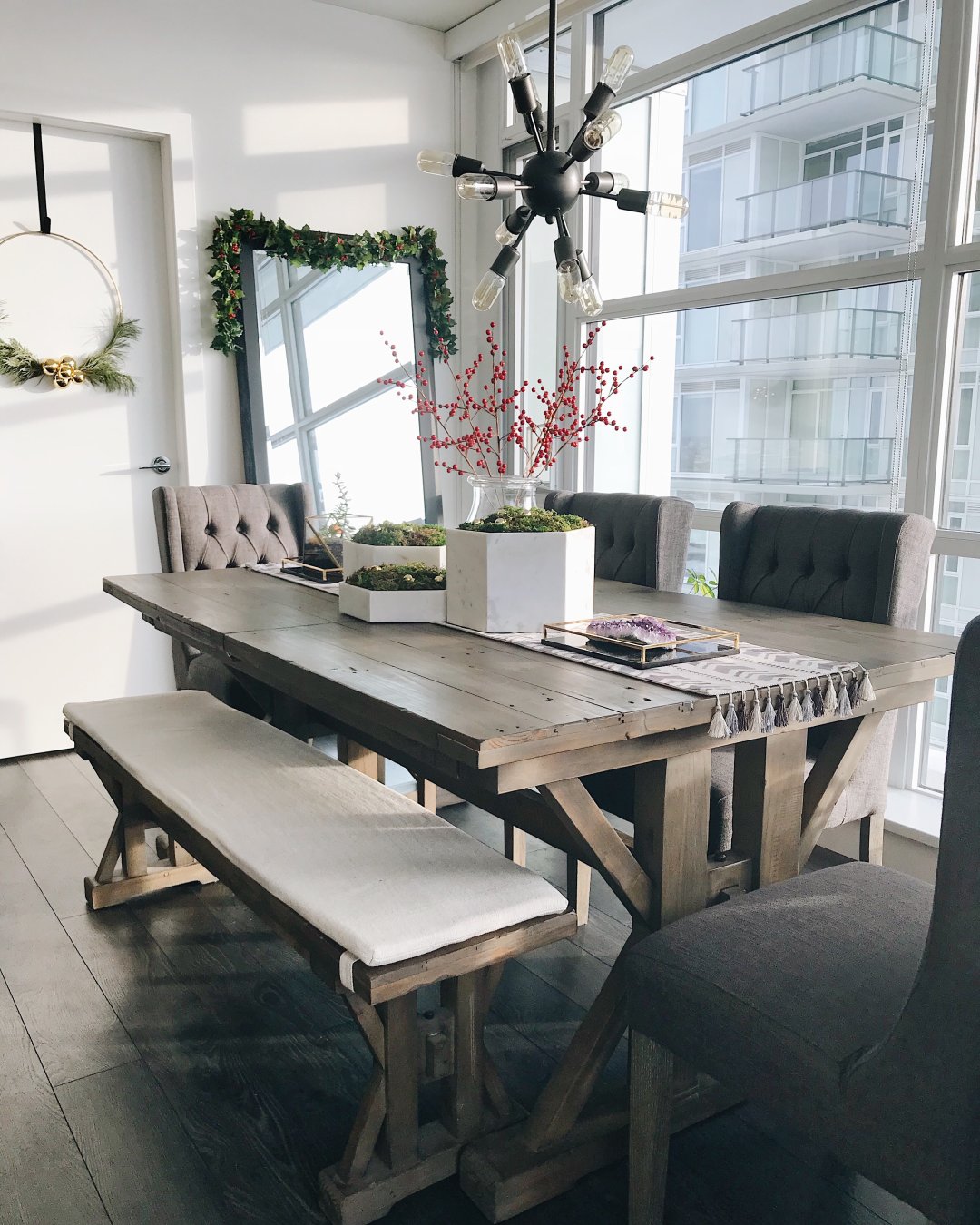 Featured: Last year's Chateau dining table. For our new seasonal pieces, check out UrbanBarn.com or visit your local store today.
Which pieces were featured in your winning image?
My feature pieces were the Chateau extension table with bench and Amelia dining chairs.
Where did you do most of your shopping?
I did most of my shopping at the Country Village and Heritage Gate locations in Calgary.
#MyUrbanBarn Contest: Post a picture of your favourite Urban Barn products in your home to INSTAGRAM using the hashtag #MyUrbanBarn for your chance to win a $150 Urban Barn gift card! A new winner is chosen each month!
Get inspired with our previous winning entries here: 
#MYURBANBARN