First becoming popular in the 1950s, sectional (or modular) sofas have increasingly gained in popularity offering a seating solution that's as functional as it is simple.
To be human is to ask ourselves the question "how can I make it better?" and as people began looking for something better suited to their changing lifestyles, sectional sofas offered a dramatic departure from the formal sofa styles of the past.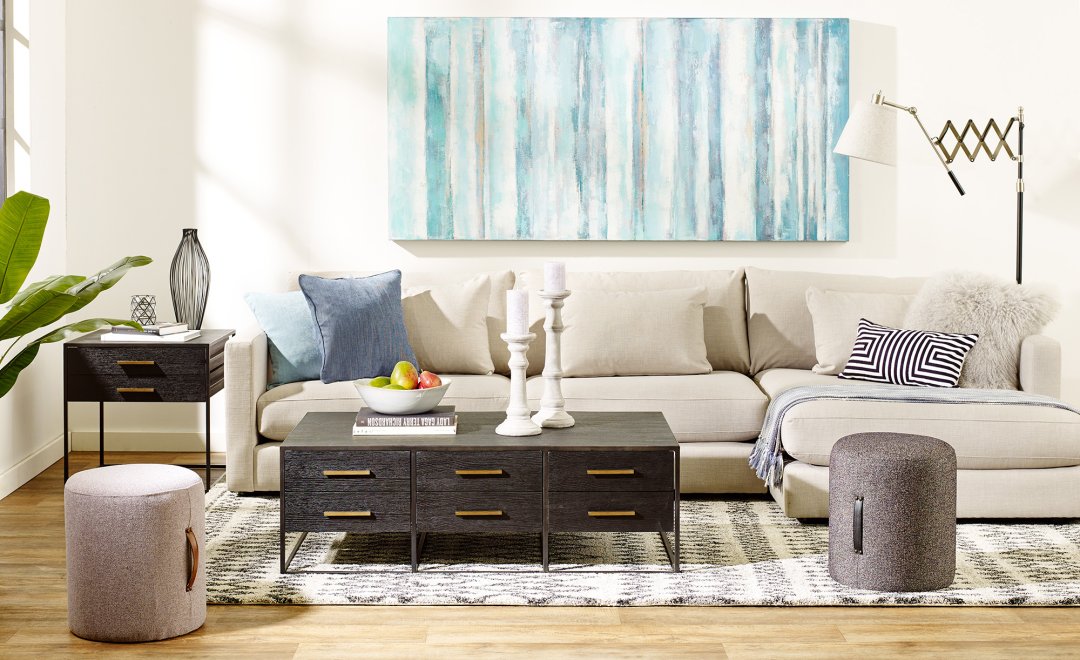 It is a common misconception that a sectional sofa is only well suited for large spaces. However, sectional sofas are ideal for both large and small spaces as they maximize seating area and make the most of the space in any sized room.
In houses and condos designed in any era (including today), it's surprising just how tight some corners, stairways or doorways were designed. If you live in one of these homes, a sectional sofa can offer a great solution for you. Since sectional components are often available in smaller lengths than a stand-alone sofa, these smaller components offer you the flexibility that a stand-alone sofa can't when it comes to maneuvering through tight spaces. Perfect for a basement or loft space!
When shopping for a sectional, it helps to be comfortable with sectional terminology. "Right-arm-facing" (RAF) means that when you are facing the piece or section, the arm is on your right. "Left-arm-facing" (LAF) means that the arm is on your left. Getting the proper-facing arm is critical, because you will be joining two or more pieces, and the placement of the arm will determine if your new sectional works in your room.
Sectional sofas are available in a variety of styles and configurations and can be tailored to accommodate almost any space. Sectional planners with diagrams of each available components are ready to print off in store for many of our customizable styles to make space planning easy.
Are you ready for us to show you how easy building an Urban Barn custom sectional can be?  Urban Barn sales associates are ready to help make this process a fun and easy one for you! We'll help you along every step of the journey from choosing the most comfortable style to the optimal configuration for your space. We'll show you how to measure and can help you select the perfect fabric to match your décor and lifestyle.
Don't forget June 19-25, 2018 all custom beds, chairs, sofas, ottomans and sectionals are 15% off in-store.
---
Urban Barn Customer's Creative Creations
---