At last, it's that time again. The last couple months of the year, where we make up for the lack of sunlight with twinkle lights, candles, and glitter. There's no room for lamenting the weather when there's so much seasonal joy and warmth from the people around us.
Our Holiday collection brings a little bit of everything that's great about this season. There's some sparkle, a few natural elements, and plenty of snow globes, pre-lit Christmas trees, and faux fur.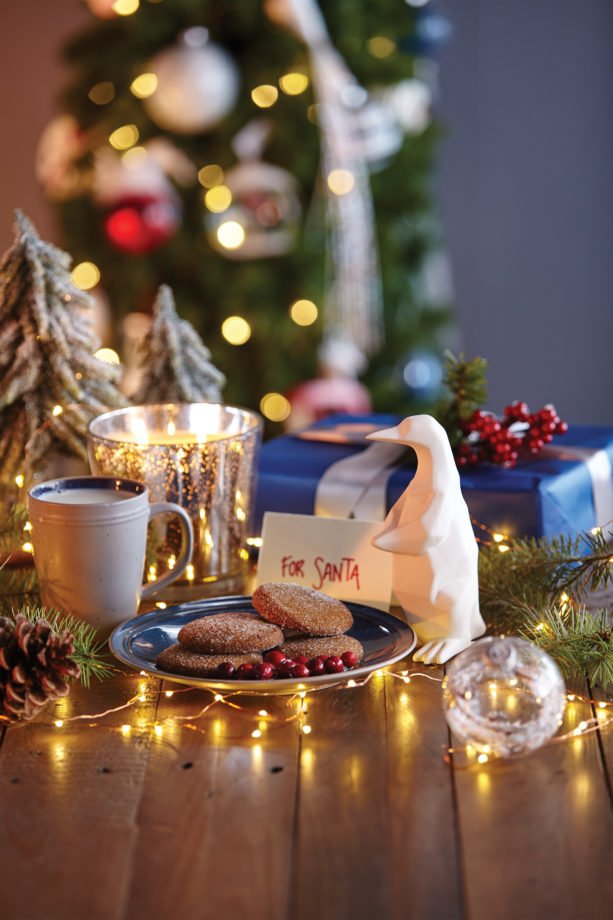 Featured: Rimple Penguin Decor, Merk Candle – Vanilla Silver, Yukon Tree Decor
There are four colour-stories that describe the themes of this year's collection; Let it Snow, Mingle All The Way, Holiday Magic, and Festive Flurry.
'Let it Snow' continues on from Fall's 'The Great Indoors'. It's full of inspiration from the changing Fall colours and evergreen foliage. It embraces the rustic elements of the season with a contemporary flair.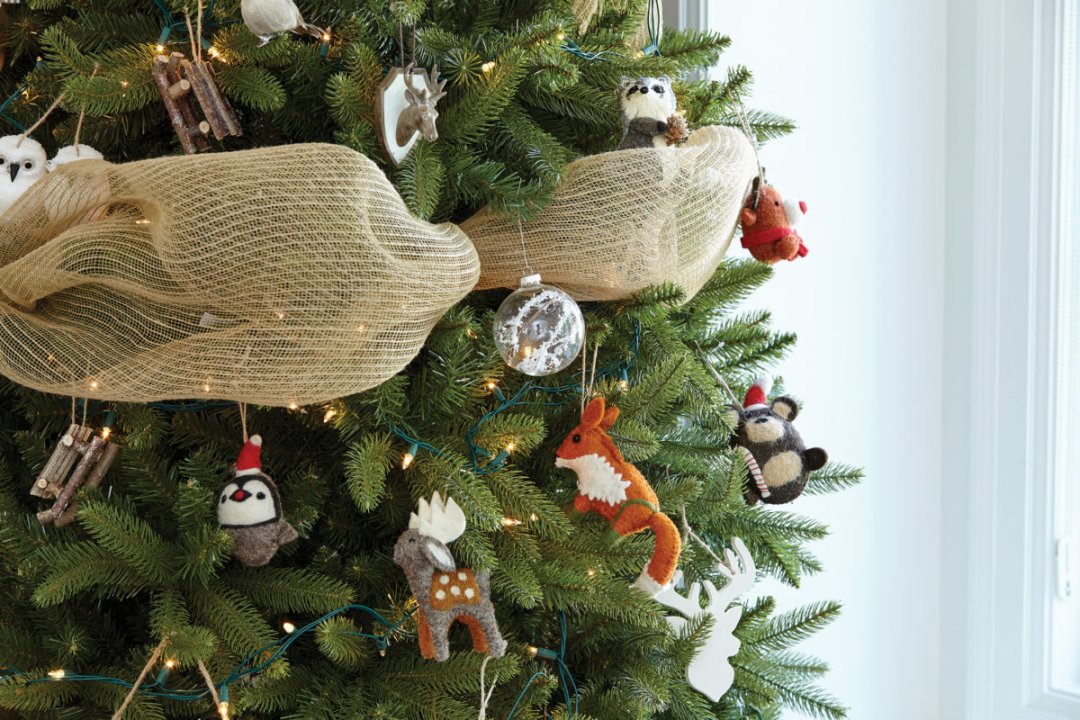 Featured: Claus Tree – 7.5 ft Slim Pre-Lit LED Green, Kringle Jute Tulle – Natural, Decorations – available in-store only.
'Mingle All The Way' has everything that comes to mind with the holiday season. It's full of festive reds, blues, and white.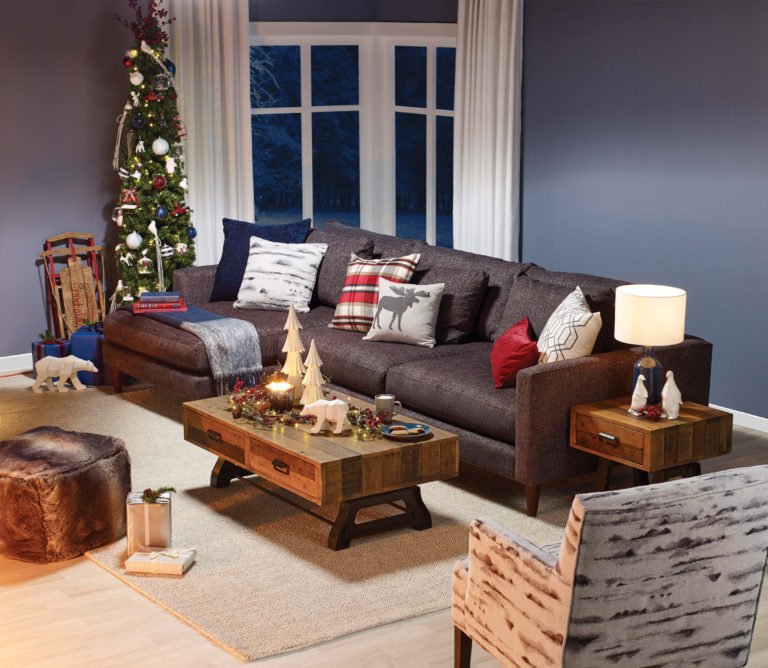 Featured: Nixon Sofa Chaise, Distillery Coffee and Side Table, Valmont Rug, Claus Pre-Lit Tree, Olena Panel, Sansa Faux Fur Pouf and Stocking, Rimple Bear, Penguin and Tree Decor, Merk Candle, Benno Table Lamp, Neva Berry Garland, Santa Sleigh Decor, Drew Moose Toss, Olsen Birch, Chalet Plaid, Andreas Throw.
'Holiday Magic' brings the sparkle to the party. It's full of whimsy, while being a romantic blend of soft, inviting pastels. It's got textures to add warmth and luxury, while the frosty tones remind you of the cold outside.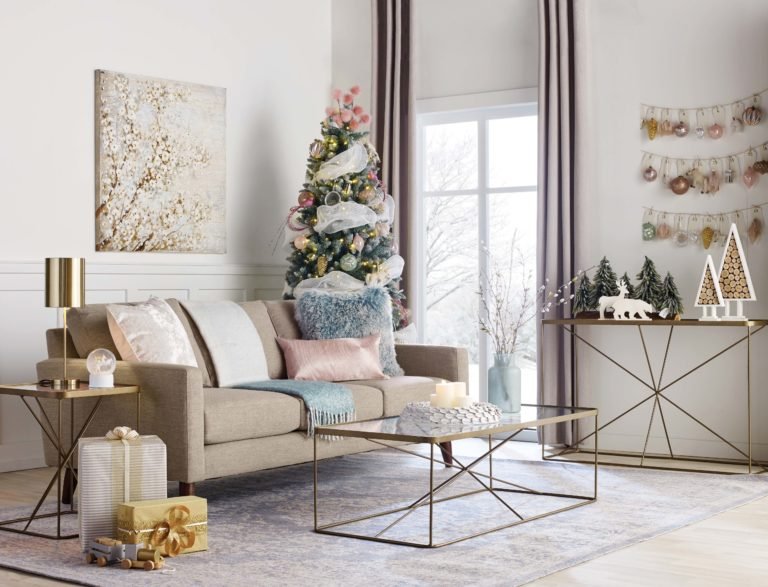 Featured: Santana Sofa, Orion Coffee Table, Side and Console Table (coming soon), Matthew Panel, Sakura Wall Art, Claus Tree – Iced, Kringle Metallic Tulle, Cassar Table Lamp, Avalon Unicorn Snow Globe (in-store), Sparkle Toss, Mongolian Toss, Classic Rug, Wynter Wreath, Braylen Vase.
Lastly, 'Festive Flurry' is a contemporary juxtaposition of textures. The greys and white feel cool and classy, with a little sparkle and shine.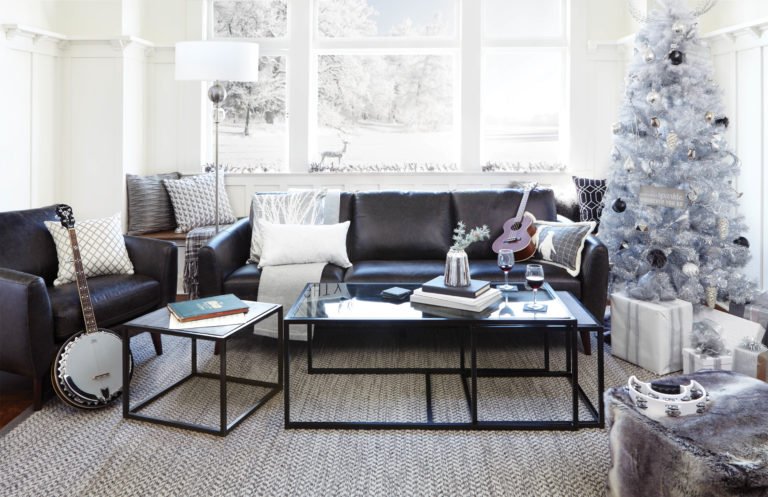 Featured: Henderson Sofa and Armchair, Madera Nesting Coffee Table, Carrington Rug, Everly Floor Lamp, Claus Ombre Tree, Sansa Faux Fur Pouf, Penguins and Aya Toss, Aspen Forest Deer Decor, Blitzen Garland.
To see the whole collection, head to UrbanBarn.com today.