As the evenings draw in and we plan more time in the comfort of our homes, we're excited to bring you our new Fall catalogue and lots of pieces you're going to fall in love with.
There are four colour-stories that tie everything together to provide inspiration and seamless diversity among the new pieces.
 Rosé S'il Vous Plait
This is a palette for romancing. It's soft, inviting, and relaxing. The muted blue, pinks and velvet, are perfect for introducing elements of this story into your home. The colour story still has elements of the Spring and Summer while giving a warm texture that makes the cooler (and wetter) evenings a little easier to handle.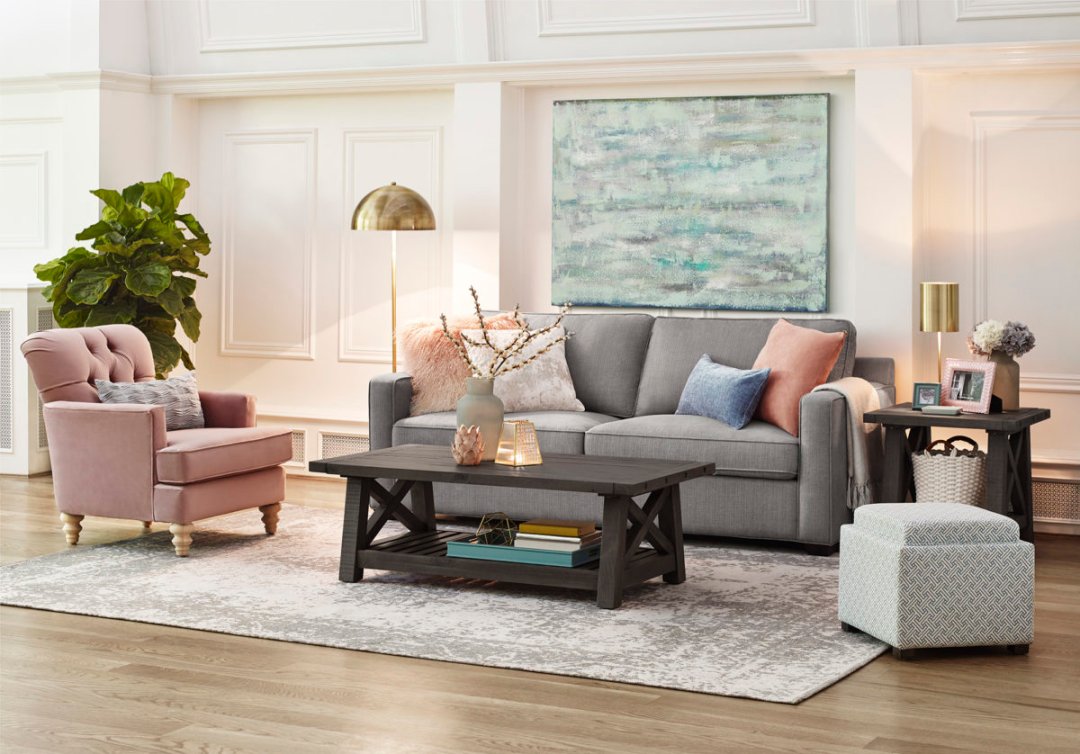 Products featured: Loden Custom Armchair -Luxe Blush; Dempsey Sofa; Ironside Coffee and Side Table; Fay Storage Ottoman; Heirloom Rug; Hedy Floor Lamp; Cassar Table Lamp; Placid Wall Art; Alena Toss, Mongolian Ombré, Luscious, Clooney and Exposed Zip Toss; Lou Throw; Sara and Leysa Frames; Braylen Vase; Corin Pussy Willow Stem; Lenore Lantern; Nalina Tealight Holder; Montreal Tray; Amare Hex Decor.
The Great Indoors
Canadian Falls are stunning. Urban Barn is embracing this colour palette by bringing you cozy, soft-knitted textures, natural cottons and woven fabrics. There will be all the colours that you think of when you picture the trees turning from evergreen to burnt orange and warm browns.
Among the cognac leather and deep wood, there are some Instagram-worthy graphic toss pillows to remind you to embrace the changing weather, and plenty of cozy pieces to keep you inside.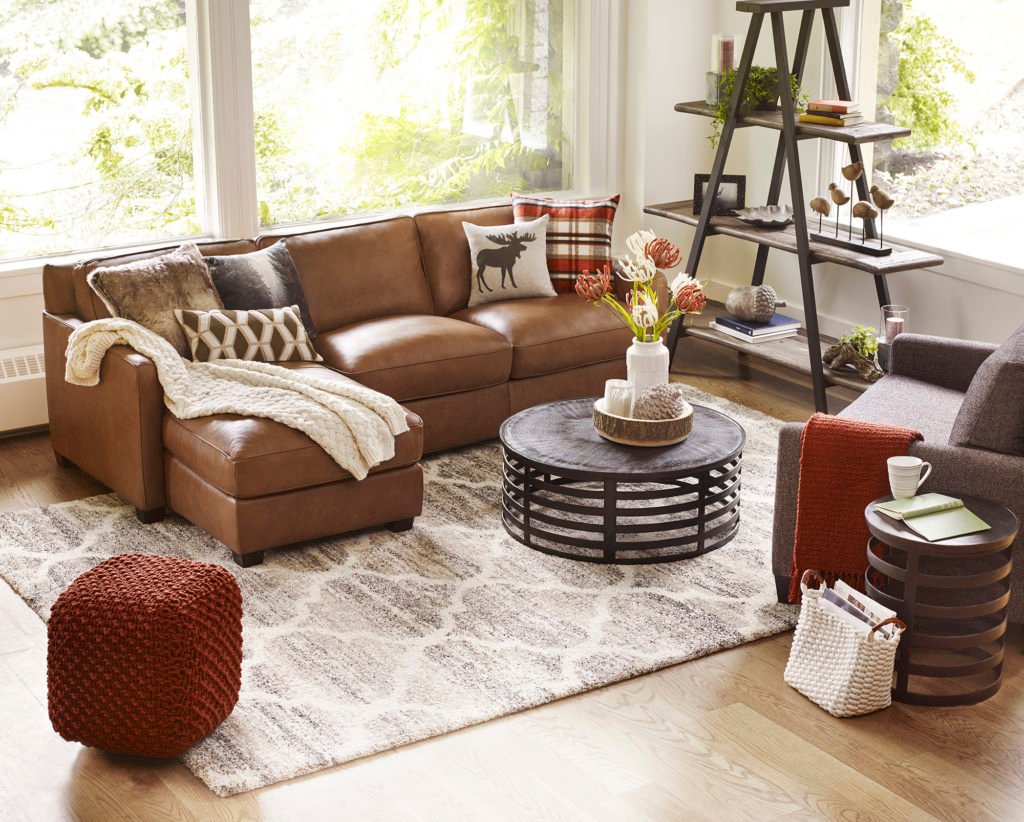 Featured products: Everett Leather Sofa Chaise; Hector Coffee and Side Table; Logan Display Shelf; Saylor Pouf; Brendon Rug; Hannah Throw, Sansa Faux Fur Toss; Outdoor, Isa, Drew Moose and Chalet Plaid Toss; Tangier Vase; Veda Bunches; Boreal Candle; Stumped Decor Bowl; Shay Pinecone and Acorn Decor; Jace Candle Holders; Everest Frame; Shay Maple Leaf Dish; Charmed Birds Decor; Marsh Decor Bowl; Betina Throw; Corde Basket.
Midnight in Marrakesh
This theme introduces patterns and a mixture of blues, silver, blacks, and whites. There will be everything to bring your home a touch of midnight glamour, from striking wall art, to dining chairs that carry the colour story across the room.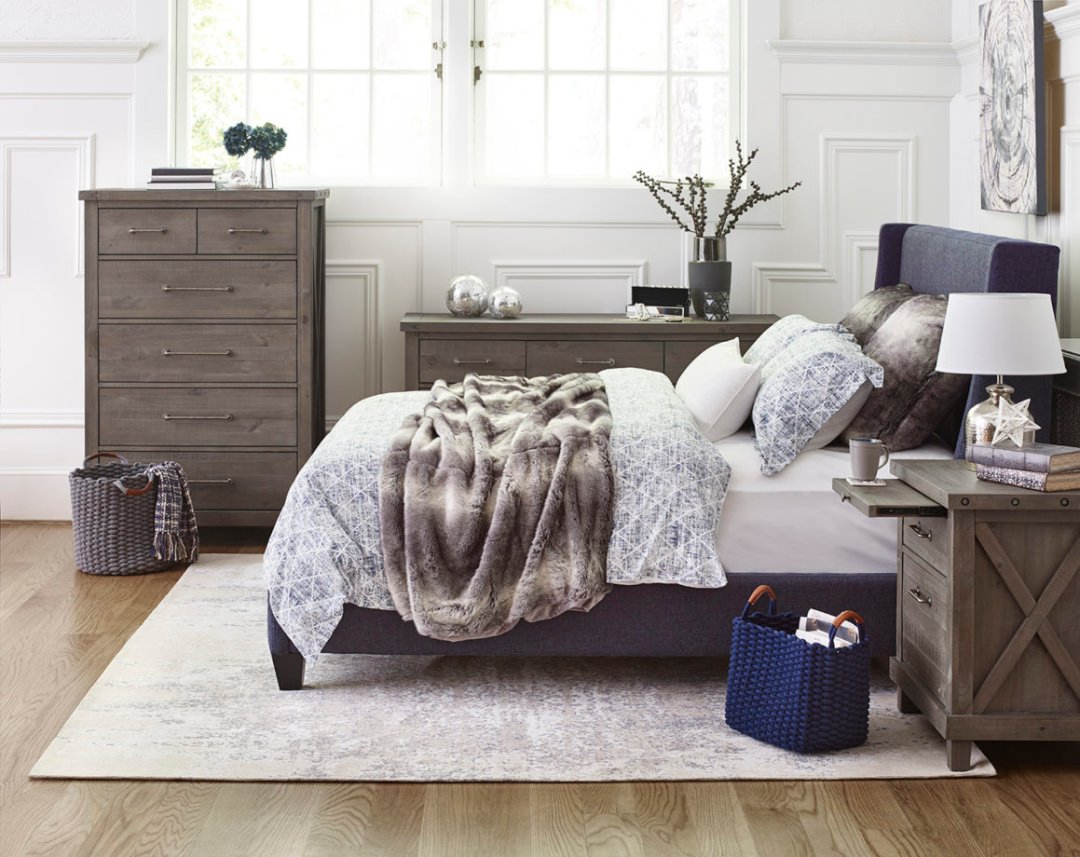 Featured products: Ironside Chest, Dresser and Nightstand; Carey Custom Bed -Davis Navy; Jaina Table Lamp; Vares Rug; End of an Era Wall Art; Diamant Duvet Set; Sansa Faux Fur Bedspread and Toss Grey Wolf; Clooney Toss; Corde Basket; Betina Throw; Leyton Vase; Shae Hydrangea; Alain Vase; Prizma Candle Holder; Diamanda Jewelry Box; Neema Star Decor; Damask and Fleur de Lis Book Box.
Wanderlust
As the name suggests, this collection is inspired by travel and the rich colours and luxurious textures found while on an adventure abroad. It's full of dark wooden furniture, tufted upholstery, and classic patterns with a focus on texture.
Featured products: Churchill Round Dining Table and Display Cabinet; Hamilton Custom Dining Chair -Dakota Indigo; Marianao Rug; Ophelia Wall Mirror; Mellal Vases; Reagan Dish Set, Serving Bowl and Platter; Moroccan Placemat; Hammered Cutlery Set; Diamant Glassware; Menara Dinnerware.
Stay tuned for more on the inspiration behind each colour story and the new pieces coming to your local Urban Barn store.